Product introduction:
QL-HT series hydrogen generator is used to produce high purity hydrogen for Hydrogen therapy and health-care application.One detail application is active Hydrogen inhalation, which is helpful refresh and keep human body healthy.Pure hydrogen is firstly lead into the hydrogen water cup,after humidification process,the hydrogen is lead into breathing pipe,optimizing hydrogen breathing effect.Active Hydrogen inhalation is approved better effect for human body in Clinical Trials.Another application is make high concentration of dissolved active hydrogen in the drinking water which is also helpful for human body healthy.
QL-HT hydrogen generator adopt word leading PEM(proton exchange membrane) H2 generating technology which is the most advanced and healthy method.Thoughtful design for healthy improving and keeping.
| | | | |
| --- | --- | --- | --- |
| Model | Hydrogen flow | Hydrogen purity | Net weight |
| QL-HT300 | 300ml/min | 99.999% | 8.5kg |
| QL-HT500 | 500ml/min | 99.999% | 9k |
Benefit of hydrogen rich water
• Lubricates joints and muscles; our body is 70% water
• Keeps our minds alert; the brain is over 70% water needing hydration to function
• Helps the body absorb nutrients
• Aids in circulation and digestion
• Helps regulate body temperature
• Detoxifies cells and the whole body
• Improves blood pressure, decreases headaches, arthritic symptoms, back pain, and chronic illness symptoms
PEM hydrogen Technology working principle:
The proton exchange membrane (PEM), which only allows water and positive ions to cross between compartments. The membrane also serves as the electrolyte in the cell, eliminating the need for hazardous liquid electrolytes such as concentrated potassium hydroxide. PEM water electrolysis simply splits pure deionized water (H2O) into its constituent parts, hydrogen (H2) and oxygen (O2), on either side of this membrane. When a DC voltage is applied to the electrolyzer, water fed to the anode, or oxygen electrode, are oxidized to oxygen and protons, while electrons are released. The protons (H+ ions) pass through the PEM to the cathode, or hydrogen electrode, where they meet electrons from the other side of the circuit, and are reduced to hydrogen gas. The two reactions that occur in the cell are as follows:
2.2H2O -> 4H+ + 4e- +O2
3.4H+ + 4e- -> 2H2
4.Thus, the only possible components of the streams are hydrogen, oxygen and water moisture, as shown in
Figure 1 below.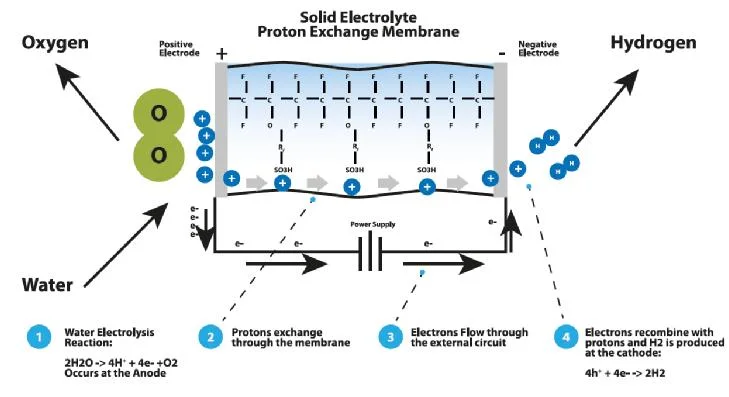 Why cooperate us:
Our company,Saikesaisi Hydrogen,is the earliest PEM hydrogen tech developer in China.Firstly established in 1993,got big investment from Saikesaisi Group in 2007 and change name to Shandong Saikesaisi Hydrogen Energy Co.,ltd.Till now Saikesaisi Hydrogen have specialized in R&D PEM hydrogen tech 24 years and have been biggest PEM hydrogen equipment factory in China.

please freely contact if you would like to learn more:
Tony Ding
Shandong Saikesaisi Hydrogen Energy Co.,Ltd

Mobile( ):+8615106921797